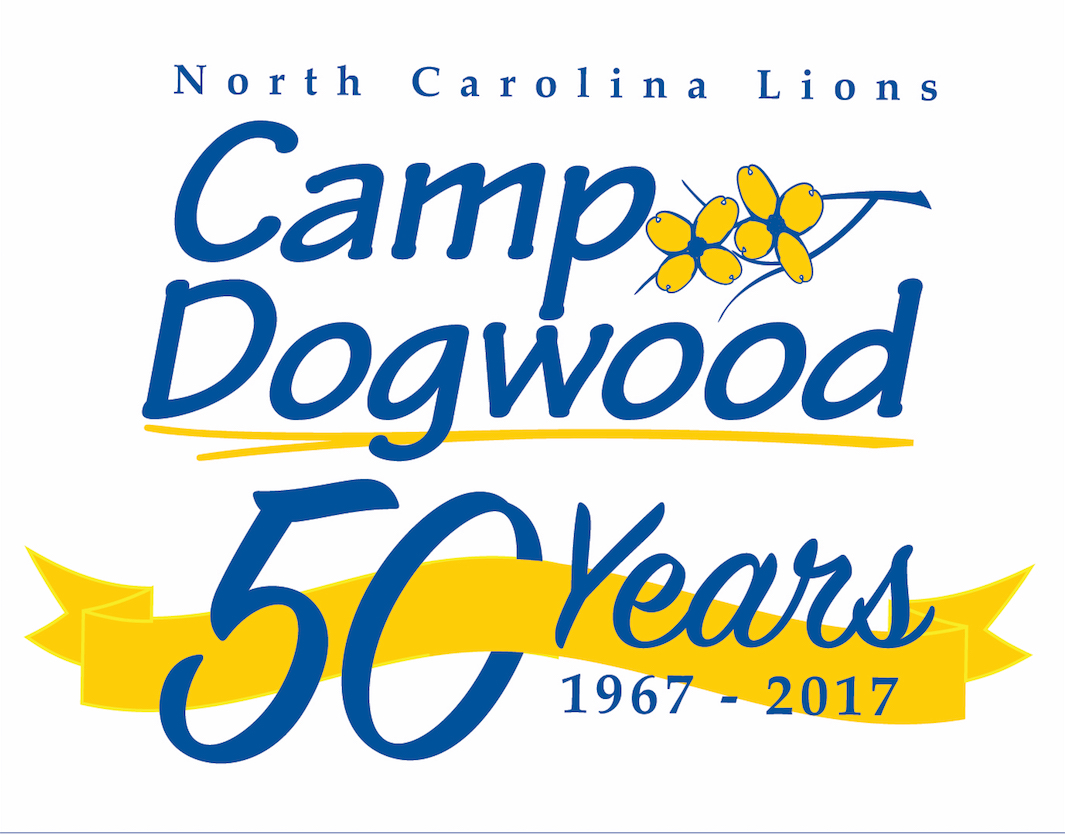 Sherrills Ford, North Carolina, March 7, 2017 – On Wednesday, July 19, 2017 campers and counselors new and old, staff, NC Lions, and community members will join together at the Camp Dogwood campus in Sherrills Ford (7050 Camp Dogwood Drive, Sherrills Ford, NC 28673) in celebration of the Camp's 50th Anniversary.
"When camp was founded half a century ago [1967], the desire of its founders was to have a place for blind people unlike any available to them. They wanted a place to have fun, to pursue thrills, to push boundaries, a place where they could be accepted as who they were, wherever they were from. While social, recreational, and vocational opportunities and challenges for blind people have changed drastically in the last half century, the immense value, and rarity, of the camp its founders envisioned have truly stood the test of time" highlights Jeremiah Rogers, Camper, former Camp Dogwood Counselor, and friend of North Carolina Lions, Inc.
Camp Dogwood for the Blind and Visually Impaired is a summer destination that provides a wonderful and therapeutic vacation retreat for persons with blindness and visual impairment. Camp extends over 10 weeks from June to August and offers a number of activities and opportunities to campers such as tubing, fishing, arts and craft, bingo, and so much more.
During the 50th Anniversary celebration Camp Dogwood will be uncovering a 20 year old time capsule while also burying a new one. Travis Sherrill, Camp Dogwood Counselor and former Camper, is famously known for putting a Snickers candy bar in the time capsule 20 years ago. "I am one of a few people that have experienced camp in every aspect, as a youth camper, as a volunteer, and as a summer counselor… it's hard to believe that I have been associated with Camp Dogwood for nearly half of its existence. I look forward to being affiliated with camp for 50 more years" states Sherrill.
Along with the time capsule, community members can enjoy a delicious Camp Dogwood cookout, live music by Caution Blind Driver (the band of our very own Camper, Jeff Balek), dance the night away during our Camp's second chance prom, and just have an all-around great time!
"The idea of a camp program for adults with severe visual impairment or blindness is very progressive now in 2017. In 1967 it was unheard of. The Lions took this amazing leap into the future of philanthropy and social service with enthusiasm and full hearts. The current well equipped facility and expansive program are testament to the Lions vision. This program thrives because of the need in our communities for it, and the goodwill and passion of the NC Lions. Please join us in July to celebrate this remarkable adventure that we are on," shares Susan King, Camp Dogwood Camp Director.
Community members can RSVP to attend the Camp Dogwood 50th Anniversary Celebration by Wednesday, June 7, 2017 through Eventbrite at http://bit.ly/2lU4vvI or email Hannah Earnhardt, Director of Development directly at carlton@nclionsinc.org Updates for this event can be found on www.nclionsinc.org
About North Carolina Lions, Inc.:
North Carolina Lions, Incorporated is a 501(c) 3 nonprofit organization established in 1934. As the official charitable organization for the Lions of North Carolina and working closely with community based North Carolina Lions Clubs, to provide programs and services to the blind and visually impaired, the prevention of vision loss, and aid to North Carolina citizens.
For more information about North Carolina Lions, Inc. please visit www.nclionsinc.org
Media Contact:
Hannah Earnhardt
Director of Development
Hannah@nclionsinc.org
828-578-9087